Current Events in and around Unison
---
Saturday, April 25, 2015 - 10AM

The Unison Preservation Society held a public meeting at the Store at 10:00 AM to discuss physical upgrades to the store and gather suggestions on future uses as a community center. Our local neighbors and everyone on our UPS mailing list was sent a comment card to return to us with fresh ideas for the store as a community resource.

For those who were unable to come to the meeting, please feel free to use the comment box below to send us your ideas. Thanks!
---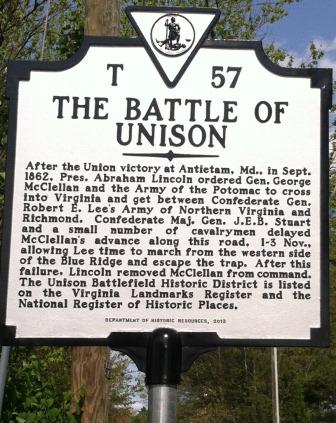 On the morning of Tuesday, April 21st 2015 the Virginia Department of Historic Resources erected a sign at our Store commemorating the 1862 Civil War battle of Unison.

It was the Unison Preservation Society that recognized the importance of this little known event and worked to put all 8000 acres of the pristine battlefield that surrounds our town onto the Virginia and National Registers.

We will be holding a dedication ceremony soon - keep tuned in for details!!
---
---
Lecture - Sunday, June 14 at 2PM
at the Unison Store
The Unison Preservation Society is proud to present local journalist and historian
Marc Leepson
who will speak about his book:
Saving Monticello.
Marc will bring to light a little-known, fascinating story of historic preservation, focusing on the Levy family's 89-year stewardship of Thomas Jefferson's "Essay in Architecture"

The talk will be on Sunday, June 14 at 2PM at the Unison Store; open to the public FREE. Seating is limited so please email RSVP your intention to attend by clicking the link below to


Email: briggs@huntoverfarm.com .

A book signing will follow the talk.
---
2015 Unison Heritage Day
to be held October 2015
1 to 5pm - date TBA
The historic village of Unison, one of the oldest settlements in Loudoun County, will hold its 12th annual Unison Heritage Day in October, in the restored Unison Store Community Center and the Village Green beside it. Stay tuned for details.
---
---
---
UPS is a 501(c)(3) not-for-profit organization.