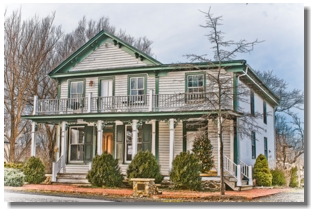 Photography by Timothy H. Snyder
Historic Unison Store Donated as Community Center

Celebration April 21st, 1-3 p.m., at Unison Store
The historic Unison Store, in one of Loudoun County's oldest villages, has been bought and donated to the nonprofit Unison Preservation Society as a community and history center.
Dr. Betsee Parker, a preservationist and owner of the historic Huntland estate less than a mile from Unison, has purchased the restored store, which has been for sale for two years. At a special celebration filled with music, food, and friends on Sunday, April 21st, Dr. Parker handed over the store keys to the nonprofit preservation society which will make the store a village community/history center and the land around it a village green. The UPS Board presented Dr. Parker with a beautiful rose bouquet, and she took center stage to deliver a wonderful little speech about her many times spent at the store years ago, how she found it a place of relaxation and peace, so much so that she was determined to buy and protect it when she heard it was for sale.
Dr. Parker, a PhD in theology, philanthropist and patron of the arts, bought and restored Huntland and its stables, kennels and buildings and put them under conservation easement to protect them permanently. She is an avid competitor in hunter jumper shows and last fall she broke the record for the number of horse show championships won by a single owner at Pennsylvania's prestigious Devon Horse Show. Her Huntland team of hunter jumpers then won Junior Hunter championships at both the Pennsylvania National Horse Show and six championships at the Upperville Colt and Horse Show.
The connection between Unison, the Unison Store and Huntland goes back a century to a meeting around the store's pot-bellied stove by the area's avid foxhunters, members of the historic Piedmont Hunt and the smaller Unison Farmers Hunt, which had a well known pack of foxhounds. The two joined forces and Unison's hounds joined the Piedmont Hounds at the newly built Huntland and its kennels, owned by Joseph B. Thomas, master of the Piedmont Hounds and president of the American Foxhound Club. After restoring those kennels in 2011, Dr. Parker, a strong supporter of the Piedmont Hounds, presided over the 100th anniversary celebration of their construction.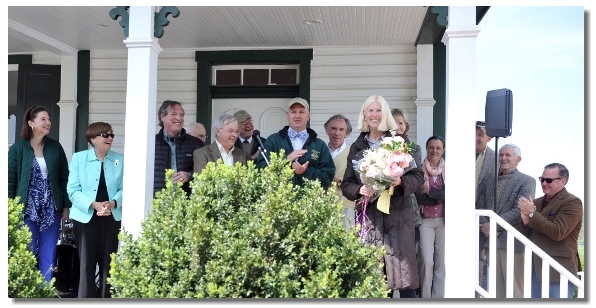 Dr. Betsee Parker with the Unison Preservation Society Board of Directors receiving the applause of the crowd at the Gifting of the Unison Store party/celebration
The Unison Store, like many rural country stores, struggled to remain a viable business in the 20th century, but sadly closed its doors in the 1990's when the then current owner closed his grocery store business.In 2001, when the store was in near derelict condition, bankrupt and slated to be sold at public auction within the year, neighbors founded the Unison Preservation Society to help save it. Coe and Mariah Eldridge, residents of the Unison/Bloomfield area, stepped forward to buy the endangered building, and renovated it for use as an office building. In the mid 2000's the offices were closed, and the store was once again for sale. With the purchase of the building by Dr. Parker, and her subsequent gift to the UPS, the store is now forever protected.
Unison Preservation Society president Harry Bigley said "Dr. Parker's generous gift will guarantee that the store and its half acre of open space will continue to be the center of village and area life and activity, as it has been for more than 140 years."
---
UNISON HERITAGE DAY
Saturday, October 27th, 2012
When: 12 Noon - 4pm
Where: Village of Unison, (western Loudoun County) Virginia
Come join your friends and neighbors at the 2012 Unison Heritage Day! This year's event is very special since it commemorates the 150th anniversary of the Battle of Unison which occurred on November 1-3, 1862. The Unison Preservation Society worked for many years to have the battle researched and recognized. This led to the Battle of Unison being recognized by the State of Virginia Historical organization and formally placed on the National Park Service register of Historic Places.
The Heritage Day festivities are still being finalized, but here are some of the treats you can expect:
Food by Red, Hot and Blue
Beverages of all types
Live Music
Clams/Oysters on the half shell
Art Show and Sale
Live Auction - including many unique and interesting items
Battlefield Tour and Talk by our expert Civil War Historian Mitch Diamond
In addition, a very large group of Civil War re-enactors (Confederates, Union and Civilian) will be recreating the battle over the actual ground it was fought on. Also, a demonstration of medical techniques used will be recreated in the village church that was used as a hospital during the battle. This same church has civil war graffiti left by the soldiers treated in the church when it was used as a hospital during the Civil War.

Admission includes: delicious food, beverages, entertainment, talks, auctions, and parking.
$30/adults (ages 13 and up); $5/children (ages 7-12); free for kids 6 and under.

Advance tickets are encouraged and can be purchased by sending a check to:
Unison Preservation Society, PO Box 606, Middleburg, VA 20118

Save the date and plan on attending. This is a great family event with lots to see, do, and enjoy!
---
Unison Heritage Day PRESS RELEASE:
150th Anniversary of the Battle of Unison
and celebration of new Unison Battlefield Historic District
Unison Heritage Day
Saturday, Oct. 27, Noon to 4 p.m.
Village of Unison

This Year Featuring:
Confederate/Union reenactment: cavalry, infantry, civilians.
Piedmont Hounds, America's oldest fox-hunting club.
Music by the Willow Branch Blue Grass band.
Barbecue, oysters, clams and beverages of all types.
Art show and sale and annual live auction.
Unison Heritage Day this year will be a commemoration of the 150th anniversary of the little known Civil War Battle of Unison and a celebration of the new Unison Battlefield Historic District, already being called one of the nation's best preserved places. The 8,000-acre, 8-mile-long battlefield, stretching from Philomont through Unison to Upperville, was placed on the Virginia Landmarks Register and the National Register of Historic places last fall.
A reenactment of the Nov. 1-3, 1862, battle will fight through the village for more than two hours, starting after 12:30 p.m., with more than 100 Union and Confederate cavalry, infantry and costumed civilians. The fighting, which left the village in flames in 1862, will take place on Unison Road going past the Unison Store, where the festival takes place. Reenactors from Liberty Rifles and 1st Maine Cavalry living history groups will camp with their horses in and around Unison Friday, Saturday and Sunday, staging mock battles on all three days, starting near Philomont and ending near Upperville. The annual fall festival, sponsored by the nonprofit Unison Preservation Society, will also feature the Blue Grass Band Willow Branch, barbecue by Red, Hot and Blue, oysters and clams on the half shell, a live auction and art show/sale. Hounds and riders from the Piedmont Hounds, America's oldest fox-hunting club, will arrive about noon as the festival opens, and mingle with the crowd. The Battle of Unison reenactment will also include demonstrations of Civil War medical techniques, Civil War talks and tours of the 1832 Unison United Methodist Church, used as a hospital for wounded Union soldiers during and after the three-day battle. Graffiti left by those soldiers is still visible on upstairs walls of the church.
Admission, $30 for adults, $5 children ages 7-12 and free for children 6 and under, includes free parking, food, beverages, auctions, talks and entertainment. Advance tickets may be purchased by sending checks to Unison Preservation Society, P.O. Box 606, Middleburg, VA, 20118. More information about the event, the battlefield and the Battle of Unison can be seen on the UPS website: www.unisonva.org.
The annual village fall festival is sponsored by the nonprofit Unison Preservation Society, which created the Unison Village Historic District and the Unison Battlefield Historic District. The village, one of the first settlements in Loudoun in the 1730s, is at the crossroads of Foxcroft Road (Rte. 626) and Unison Road (Rte. 630) northwest of Middleburg. The Battle of Unison, described in a 52-page illustrated history by National Park Service historian David Lowe, will be available for sale at the festival. The small, three-day Civil War battle after the Battle of Antietam, followed a plan by President Lincoln himself, which he hoped might capture the Confederate capital of Richmond and result in an early end to the war. When the plan and Gen. George B. McClellan failed, Lincoln immediately removed McClellan from command. Historian Lowe says in his history "Thus, a small battle in Loudoun Valley had a disproportionate impact upon the course of the campaign and the war in Virginia." The battlefield today, with most of its roads the original dirt roads of 1862, is so well preserved says Lowe that if Union and Confederate troops who fought here were to see it today they would recognize the entire battlefield.
Press: For additional information contact Paul Hodge, 540-554-8624, a.p.hodge2@gmail.com; or Harry Bigley, 540-554-2474, harrybigley@aol.com. Short draft calendar item: Oct. 27, noon to 4 p.m., Unison Heritage Day, village festival and reenactment celebrating the 150th anniversary of the Civil War Battle of Unison and new 8,000-acre Unison Battlefield Historic District, placed on state and national historic registers last fall. Festival features Blue Grass music, barbecue, oysters/clams, art show, live auction and Piedmont Hounds, America's oldest fox-hunting organization. Admission, $30 adults, $5 children 7-12, includes free parking, food, beverages, auctions, Civil War talks, reenactment and entertainment. For further information see www.unisonva.org.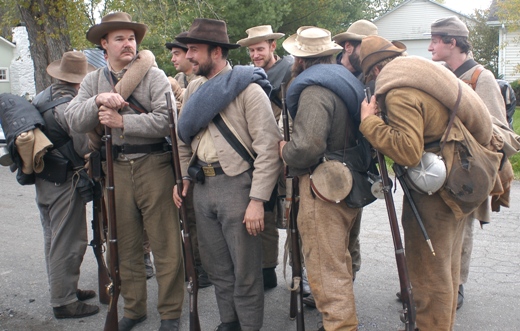 The Unison Preservation Society is a non-profit 501(c)3 organization. All contributions are tax-deductable.