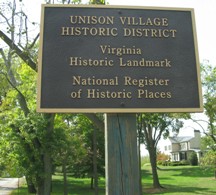 The Unison Preservation Society was incorporated in 2001 to help protect and preserve the historic village and surrounding countryside of Unison. The village was founded in the early 1730's as one of the first settlements in Loudoun County, Virginia.

We invite you to browse our website for information on
Village history and genealogy
Unison in the Civil War
Current Unison events and Heritage Day
National Battlefield study in the Unison area
How you can help promote the
preservation and celebration of our culturally rich heritage.
The Unison Preservation Society is a non-profit organization.
All contributions are tax deductable.
Thank you to all who have given so generously to support the Society.
---
Thanks to all our fabulous Sponsors, Patrons,
and wonderful attendees who made
our 2014 Unison Heritage Day this October 25th
such a fantastic success!!!

It was the perfect day to enjoy the food, the music, the silent and live auctions, and lots of fun with neighbors and family at our annual Heritage Day where we celebrate the village of Unison. We were delighted to see a huge crowd in attendance, and know that everyone had a marvelous time, many going home with the treasures offered in both the silent and live auctions.

We will be celebrating the 2015 Heritage Day in October next year, so stay tuned to this website for details to be posted online later next summer!