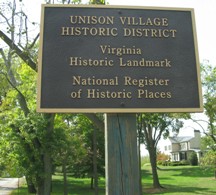 The Unison Preservation Society was incorporated in 2001 to help protect and preserve the historic village and surrounding countryside of Unison. The village was founded in the early 1730's as one of the first settlements in Loudoun County, Virginia.

We invite you to browse our website for information on
Village history and genealogy
Unison in the Civil War
Current Unison events and Heritage Day
National Battlefield study in the Unison area
How you can help promote the
preservation and celebration of our culturally rich heritage.
The Unison Preservation Society is a non-profit organization.
All contributions are tax deductable.
Thank you to all who have given so generously to support the Society.
---
Get Ready for our 2014 Unison Heritage Day this October 25th!!!

Come enjoy the food, the music, the silent and live auctions, and lots of fun with neighbors and family at our annual Heritage Day to celebrate the village of Unison. We have all the details on the Current Events page of this website. You can also


**click here to download the 2014 Heritage Day press release **


for this year's event! We hope to see everyone there!

You are cordially invited to attend a very special ceremony to honor three local Confederate War soldiers

On October 25, 2014 at 12 noon, there will be a very special ceremony held at South Fork Cemetery in Unison to honor three Confederate soldiers with ties to this area:

Caleb Rector (1842-1864) Cpl. Co. A, 6th Va. Cavalry. Captured at Yellow Tavern, he died at the Union Prison at Point Lookout, Md at age 22.
T. Edgar Dishman (1848-1887) Pvt. Co. G, 43rd B. Va. Cavalry.
William Seaton (1809-1878) Pvt. Co. A, 6th Va. Cavalry (Detached as a teamster w/ the QMD.)

Clinton Hatcher Camp, Sons of the Confederate Veterans (Leesburg, VA) will be hosting this ceremony, and are credited for the fundraising, grave restoration, and installation of the Iron Crosses of Honor for the three Confederate Veterans buried at South Fork Cemetery.

The ceremony should begin at about 12 noon and last about 30 minutes, highlighting the lives of these men and the recent restoration of their gravestones. While this event is separate from the Unison Day events, we know this ceremony will be very interesting to both Heritage Day attendees and history buffs in our area, so please make plans to join in the celebration.

The cemetery is about a mile south of the village next to Tap Root Farm - within walking distance on the peaceful gravel road if you have on good walking shoes. There will be parking for cars if attendees wish to drive.