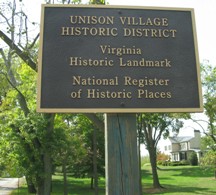 The Unison Preservation Society was incorporated in 2001 to help protect and preserve the historic village and surrounding countryside of Unison. The village was founded in the early 1730's as one of the first settlements in Loudoun County, Virginia.

We invite you to browse our website for information on
Village history and genealogy
Unison in the Civil War
Current Unison events and Heritage Day
National Battlefield study in the Unison area
How you can help promote the
preservation and celebration of our culturally rich heritage.
The Unison Preservation Society is a non-profit organization.
All contributions are tax deductable.
Thank you to all who have given so generously to support the Society.
---
Join Us on June 20 To Celebrate Unison's History

Come to the Unison Store on June 20th to Honor and Remember Our History, to learn more about our important role in the US Civil War , to hear about the creation of our 8000 acre battlefield historic district, to dedicate the new sign describing the 1862 Civil War Battle of Unison (see photo to the left below menu), to commemorate the donation of the old Unison Store to UPS as a Community Center, and to visit our new Community Center and learn of plans for its future

- Saturday, June 20th, 11 AM -
- At The Unison Store -

Our 2015 Newsletter is online!

or go to the Society News link to access both the current and archived newsletters.

SPECIAL NOTICE

Report to Our Community - 2015

This report tells the fundamental story of what UPS is, what it has accomplished in its years of existence, what it plans to do, and how it is spending the resources provided by its supporters.

We invite you to please *click here* to download a copy of the report.